J'habite ici donc je porte cela.
La capitale de la mode c'est Paris, n'est-ce pas?
Oublions 2 secondes cette petite flatterie et allons jeter un oeil dehors.
Pas pour rien que la Fashion Week se dédouble et prend place dans plusieurs villes, dans plusieurs pays. La mode est protéiformes et se façonne selon son contexte culturel, géographique et historique. Je vous propose de faire un saut chez les voisins, de près ou de loin, et voir ce qu'ils ont aux pieds et ce, à travers le style pointu de blogueuses bien chaussées.


Première escale :
Los Angeles
Californie = temps radieux 364 jours par an, les beaches, les palmiers, Los Angeles, la capitale du cool, du yoga, du mouvement vegan, du cinoche et du glitter - mais c'est aussi un essaim de blogueuses archi cool et branchées à la peau tannée comme il faut - en somme des copines fantasmées à qui on aimerait piquer des shoes et avec qui on voudrait trainer pour la vie.
J'ai eu l'occasion d'y trainer mes pieds il y a un an de ça pour stage. Une de mes workmates avait vraisemblablement un goût prononcé pour les compensées sexy et les talons vertigineux.
"The higher the heel, the closer to God" qu'elle disait. Il s'agit probablement d'un commandement promulgué par Guiseppe Zanotti!
Puis j'ai vu ma boss arriver au bureau avec de superbes sandales Jimmy Choo. Plateau en corde de 5 cm et talon de 15. Et là tu te dis "
mais comment elles font pour assumer un working day sans se casser les chevilles et avoir les pieds enflés??
". Et j'ai réalisé une chose simple quelques jours plus tard : tout est fait pour que les efforts dans le déplacement soient réduits. En gros vous vous déplacez en voiture automatique - ma workmate conduisait une jambe pliée façon pose du lotus, l'autre pied sur l'accélérateur et son gobelet Starbuck dans la main tout en passant un coup de fil bluetooth (no joke inside). Ensuite vous avez les trottoirs bétonnés extra-larges et tout le temps plats, les escalators à gogo, les ascenseurs et où que vous alliez, c'est climatisé, pour avoir les pieds toujours au frais. Vous obtenez donc un environnement total comfort pour vos pieds mêmes chaussés d'une paire de Sophia Webster (cf. photo ci-dessus) ou d'Alexander McQueen. Ce qui explique aussi le fait que les modèles totalement barrés et vertigineux de Jeffrey Campbell ont du succès. Ben oui, c'est tout à fait portable chez eux.
Passons aux exemples concrets -> les modeuses
aka
les blogueuses.
Fashion Toast // son blog / sandales Céline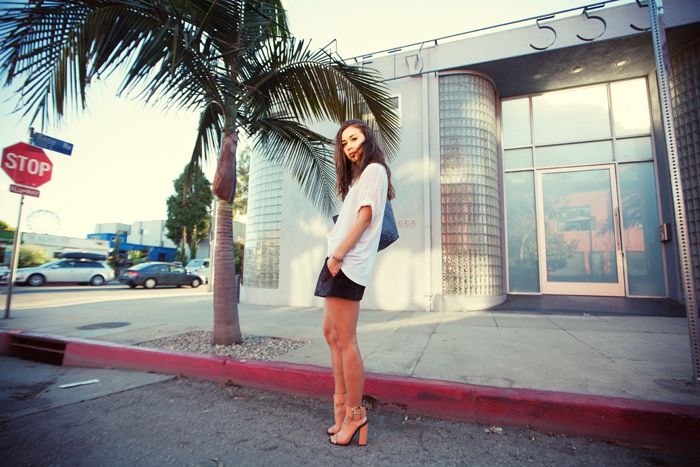 Song of Style
//
son blog
/ voyez ici un aperçu de sa collection
Guiseppe Zanotti, Jimmy Choo, Alaia, Givenchy
Karla's Closet
//
son blog
/ sandales Prada
Le style calif' on le retrouve ici et là :
Nasty gal
Free People
Neiman Marcus
Unif
Jeffrey Campbell
Wastedland
Solestruck
Ash Bury Skies